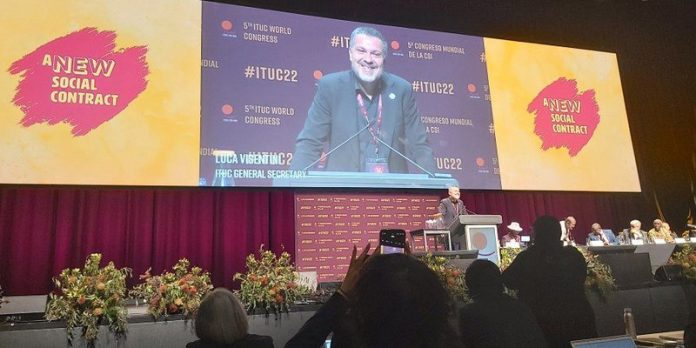 —- ENG
They pretend that nothing is happening in order to continue to serve the European Union and the interests of capital.
Starting tomorrow, the leaders of the European trade union organisations affiliated to the ETUC will meet in Berlin to celebrate the extraordinary congress called after the very serious Quatargate scandal involving the top management of the ETUC and ITUC.
However, corruption is absent from the central themes of the congress, with no mention of the scandal of the 50,000 euros paid by emissaries of the government of Qatar to the ITUC General Secretary Luca Visentini until November 2022.
Above all, there seems to be no discussion on the agenda as to why the Italian trade unionist accepted the money: to avoid any criticism, any denunciation of the treatment of workers involved in the construction of the stadiums for the 2022 World Cup in Qatar. Together with MEPs and key NGO representatives, the ETUC, through Visentini, promised to avert a condemnation by the European Commission, which could have damaged the image built up around the sporting event, in exchange for the 50,000 euros in cash handed over by two men from the Qatari government.
The European Yellow Union, which has not issued any statement in recent months to explain what happened, is today renewing its leadership in the presence of Ursula von der Leyen and Nicolas Schmit, the European Commissioner for Employment and Social Affairs, to whom it will hand over a union that has been formally purged, but which is determined to continue its work of accompanying and being complicit in the European Union's destruction of the trade union and social rights of European workers.
Moreover, in a conference organised as part of the congress work, the ETUC will hold a debate entitled "East-West trade union relations during the Cold War", confirming its Atlanticist loyalty and in full continuity with the break with the decisions taken in 1949 within the World Federation of Trade Unions by some of the largest European organisations alongside those of the USA, in a pathetic and unsuccessful attempt to exorcise the strengthening of the WFTU, the international class union, also in Europe.
Eurof-WFTU
—- FR
Le congrès de la CES s'ouvre demain
Ils font comme si de rien n'était pour continuer à servir l'Union européenne et les intérêts du capital.
Dès demain à Berlin, les dirigeants des organisations syndicales européennes membres de la CES se réunissent pour célébrer le congrès extraordinaire convoqué après le très grave scandale du Quatargate impliquant la haute direction de la CES et de la CSI.
Cependant, la corruption est absente des thèmes au centre du Congrès, aucune mention du scandale des 50.000 euros versés par des émissaires du gouvernement du Quatar à Luca Visentini, alors secrétaire général de la CSI, jusqu'en novembre 2022. Surtout, il ne semble pas y avoir de discussion à l'ordre du jour sur les raisons pour lesquelles le syndicaliste italien a pris cet argent : éviter toute critique, toute dénonciation du traitement reçu par les travailleurs engagés dans la construction des stades de la Coupe du Monde 2022 au Quatar. Avec des parlementaires européens et d'importants représentants d'ONG, la CES, par l'intermédiaire de Visentini, s'est engagée, en échange des 50.000 euros remis en liquide par deux hommes du gouvernement de Quatar, à éviter un jugement de condamnation de la Commission européenne qui aurait pu nuire à l'image construite autour de l'événement sportif.
Le syndicat jaune européen, qui ces derniers mois n'a publié aucun communiqué expliquant ce qui s'est passé, renouvelle aujourd'hui sa direction en présence d'Ursula Von derLeyen et de Nicolas Schmit, commissaire européen au oeuvre, à qui il remettra un syndicat formellement nettoyé mais désireux de poursuivre son travail d'accompagnement et complice du travail de l'Union européenne dans la destruction des droits syndicaux et sociaux des travailleurs européens.
Par ailleurs, dans une conférence organisée dans le cadre des travaux du congrès, la CES tiendra un débat intitulé "Les relations syndicales Est-Ouest pendant la guerre froide", confirmant sa loyauté atlantique et en pleine continuité avec la rupture des choix opérés en 1949 au sein de la Fédération syndicale mondiale par quelques-unes des plus grandes organisations européennes aux côtés de celles des États-Unis, dans une tentative pathétique et infructueuse d'exorciser le renforcement de la FSM, le syndicat international de classe, en Europe également.
Eurof-WFTU
—- ES
Mañana se inaugura el congreso de la CES
Hacen como que no pasa nada para seguir sirviendo a la Unión Europea y a los intereses del capital.
A partir de mañana se reúnen en Berlín los dirigentes de las organizaciones sindicales europeas pertenecientes a la CES para celebrar el Congreso extraordinario convocado tras el gravísimo escándalo del Quatargate que se han visto implicados los máximos dirigentes de la CES y la CSI.
Sin embargo, la corrupción está ausente de los temas centrales del Congreso, ninguna mención al escándalo de los 50.000 euros pagados por emisarios del gobierno de Quatar al entonces secretario general de la CSI Luca Visentini hasta noviembre de 2022. Sobre todo, parece que no se discute en el orden del día por qué el sindicalista italiano se llevó el dinero: para evitar cualquier crítica, cualquier denuncia sobre el trato recibido por los trabajadores que participan en la construcción de los estadios de la Copa del Mundo de 2022 en Quatar. Junto a eurodiputados e importantes representantes de ONG, la CES, a través de Visentini, se comprometió, a cambio de los 50.000 euros entregados en metálico por dos hombres del gobierno de Quatar, a evitar una sentencia condenatoria de la Comisión Europea que podría haber dañado la imagen construida en torno al evento deportivo.
El sindicato amarillo europeo, que en los últimos meses no ha emitido ningún comunicado explicando lo sucedido, renueva hoy su dirección en presencia de Ursula Von derLeyen y Nicolas Schmit, Comisario Europeo de Trabajo, a quienes entregará un sindicato formalmente limpio pero deseoso de continuar su labor de acompañamiento y cómplice de la labor de la Unión Europea en la destrucción de los derechos sindicales y sociales de los trabajadores europeos.
Además, en una conferencia organizada en el marco de los trabajos del congreso, la CES celebrará un debate titulado "Las relaciones sindicales Este-Oeste durante la guerra fría", confirmando su lealtad atlántica y en plena continuidad con la ruptura con las opciones tomadas en 1949 en el seno de la Federación Sindical Mundial por algunas de las mayores organizaciones europeas junto a las de Estados Unidos, en un patético e infructuoso intento de exorcizar el fortalecimiento de la FSM, el sindicato de clase internacional, también en Europa.
Eurof-WFTU
—- IT
Apre domani il congresso ETUC
Fanno finta di nulla per continuare a servire l'Unione Europea e gli interessi del capitale.
Si riuniscono da domani a Berlino i vertici delle organizzazioni sindacali europee aderenti all'ETUC per celebrare il Congresso straordinario convocato dopo il gravissimo scandalo del Quatargate che ha coinvolto i massimi vertici dell'ETUC e dell'ITUC.
Nei temi al centro del Congresso manca però la corruzione, nessun accenno allo scandalo dei 50.000 euro versati da emissari del governo del Quatar all'allora Segretario generale dell'ITUC Luca Visentini, già segretario Generale dell'ETUC fino a novembre del 2022. Soprattutto non sembra essere all'ordine del giorno alcuna discussione sul motivo per cui il sindacalista italiano prese i soldi: evitare ogni critica, ogni denuncia dei trattamenti ricevuti dagli operai impegnati nella costruzione degli stadi dei mondiali di calcio del 2022 in Quatar. Insieme a parlamentari europei e importanti rappresentanti di ONG, l'ETUC, attraverso Visentini, si è impegnato, in cambio dei 50.000 euro consegnati in contanti da due uomini del governo del Quatar, a scongiurare un giudizio di condanna da parte della Commissione Europea che avrebbe potuto pregiudicare l'immagine costruita attorno alla kermesse sportiva.
Il sindacato giallo europeo, che non ha espresso in questi mesi nessun comunicato di spiegazione su quanto accaduto, oggi rinnova i suoi vertici alla presenza di Ursula Von derLeyen e di Nicolas Schmit, il Commissario europeo del lavoro a cui verrà consegnato un sindacato ripulito formalmente ma desideroso di continuare nella sua opera di accompagnamento e di complicità dell'operato dell'Unione Europea nella distruzione dei diritti sindacali e sociali dei lavoratori europei.
Inoltrein un convegno ospitato nell'ambito dei lavori congressuali l'ETUC terrà un dibattito dal titolo "East-West trade union relations during the cold war", a conferma della propria fedeltà atlantica e in piena continuità con le scelte di rottura operate nel 1949 nell'ambito della Federazione Sindacale Mondiale da parte di alcune delle maggiori organizzazioni europee a fianco di quelle USA, in un patetico e fallimentare tentativo di esorcizzare il rafforzamento anche in Europa del WFTU, il sindacato internazionale di classe.