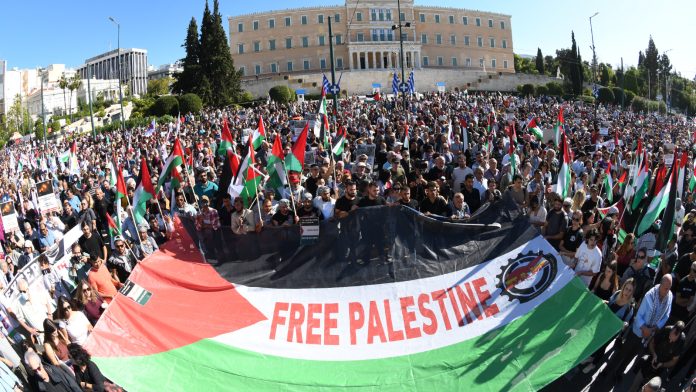 On Sunday, November 5 Athens center flooded with thousands of people in solidarity with Palestine.
The class unions of Athens held a massive rally in front of the Parliament of Greece with a gigantic flag of Palestine in the center. The floor was given to the Ambassador of Palestine in Greece Yussuf Dorkhom and main speaker was the President of Hotel-Tourism Workers' Union of Athens, Member of PAME Secretariat, Giorgos Stefanakis who noted
"The labour movement in our country has a rich tradition of solidarity with the Palestinian people. It is so strong and deep that it cannot be stopped by the outrageous lies of Israeli and US-NATO propaganda, by the propaganda of the murderers.
The government's support for the murderer state, which has turned a small piece of land into the largest open prison in the world and a graveyard for civilians and young children, is in complete contrast to the popular feeling of solidarity and support for the justice of the Palestinian people, expressed in great demonstrations all over Greece, in workplaces, universities, schools, in the stands of all the stadiums where Palestinian flags are flying everywhere.
We address all our brothers and sisters in Palestine and we say to them from this great rally YOU ARE NOT ALONE we are with you until Freedom!"