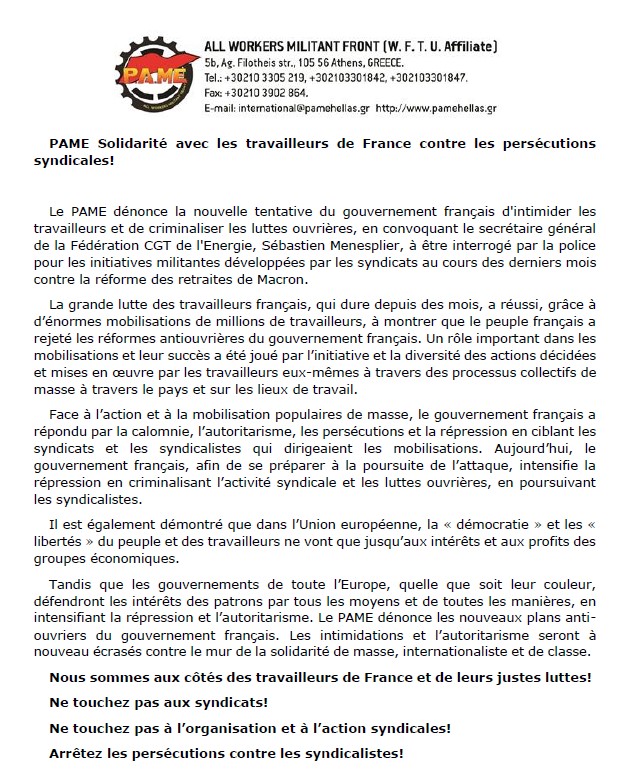 Le PAME dénonce la nouvelle tentative du gouvernement français d'intimider les travailleurs et de criminaliser les luttes ouvrières, en convoquant le secrétaire général de la Fédération CGT de l'Energie, Sébastien Menesplier, à être interrogé par la police pour les initiatives militantes développées par les syndicats au cours des derniers mois contre la réforme des retraites de Macron.
La grande lutte des travailleurs français, qui dure depuis des mois, a réussi, grâce à d'énormes mobilisations de millions de travailleurs, à montrer que le peuple français a rejeté les réformes antiouvrières du gouvernement français. Un rôle important dans les mobilisations et leur succès a été joué par l'initiative et la diversité des actions décidées et mises en œuvre par les travailleurs eux-mêmes à travers des processus collectifs de masse à travers le pays et sur les lieux de travail.
Face à l'action et à la mobilisation populaires de masse, le gouvernement français a répondu par la calomnie, l'autoritarisme, les persécutions et la répression en ciblant les syndicats et les syndicalistes qui dirigeaient les mobilisations. Aujourd'hui, le gouvernement français, afin de se préparer à la poursuite de l'attaque, intensifie la répression en criminalisant l'activité syndicale et les luttes ouvrières, en poursuivant les syndicalistes.
Il est également démontré que dans l'Union européenne, la «démocratie» et les «libertés» du peuple et des travailleurs ne vont que jusqu'aux intérêts et aux profits des groupes économiques.
Tandis que les gouvernements de toute l'Europe, quelle que soit leur couleur, défendront les intérêts des patrons par tous les moyens et de toutes les manières, en intensifiant la répression et l'autoritarisme. Le PAME dénonce les nouveaux plans anti-ouvriers du gouvernement français. Les intimidations et l'autoritarisme seront à nouveau écrasés contre le mur de la solidarité de masse, internationaliste et de classe.
Nous sommes aux côtés des travailleurs de France et de leurs justes luttes!
Ne touchez pas aux syndicats!
Ne touchez pas à l'organisation et à l'action syndicales!
Arrêtez les persécutions contre les syndicalistes!
*****
PAME denounces the new attempt of the French Government to intimidate workers and criminalise workers' struggles, by calling the General Secretary of the CGT Energy Federation, Sébastien Menesplier to give statement to the police for the militant initiatives developed by the trade unions in the past months against Macron's pension reform.
The great months-long struggle of French workers has succeeded, through the huge mobilisations of millions of workers, in showing that the French people have rejected the French government's anti-workers' reforms. An important role in the mobilisations and their success was played by the initiative and the diversity of actions decided and implemented by the workers themselves through mass, collective processes throughout the country and in the workplaces.
In the face of mass popular action and mobilisation, the French government responded with slander, authoritarianism, persecutions and repression by targeting trade unions and trade unionists who led the mobilisations.
Today, the French government, in order to prepare for the continuation of the attack, is escalating the repression by criminalising trade union activity and workers' struggles, by prosecuting trade unionists. It is also shown in this way that in the European Union, "democracy" and "freedoms" of the people and workers only go as far as the interests and profits of the business groups. While Governments all over Europe, regardless of their colour, will promote the interests of the bosses by every means and way, escalating repression and authoritarianism.
PAME denounces the new anti-workers' plans of the French government. Intimidations and authoritarianism will again be smashed against the wall of mass, internationalist, class solidarity.
We stand with the workers of France and their just struggles!
Hands off the unions!
Hands off trade union organization and action!
Stop the persecutions against trade unionists!
PAME