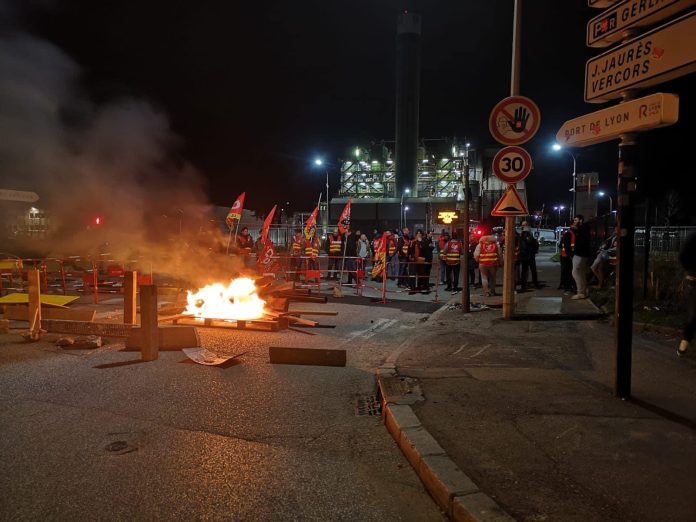 Déclaration de solidarité de la FSM avec la nouvelle grève en France
La Fédération Syndicale Mondiale exprime sa solidarité pleine et entière avec les travailleurs.ses et les syndicats de France qui poursuivent et culminent la lutte acharnée contre la réforme des retraites avec une nouvelle grève nationale le 23 mars 2023.
Nous félicitons les affiliés de la FSM en France et les syndicats militants de classe qui sont à l'avant-garde de cette lutte immense et massive pour le retrait de la réforme des retraites anti-peuple et anti-ouvrière du gouvernement français. C'est un combat crucial non seulement pour la classe ouvrière en France, c'est un combat pour tous.tes les travailleurs.ses et retraité.e.s.
C'est une lutte universelle contre les politiques anti-peuple des gouvernements bourgeois qui promeuvent l'augmentation de l'âge de la retraite.
C'est une lutte contre les intérêts du grand capital et des multinationales visant l'abolition de la sécurité sociale et la privatisation du système des retraites.
C'est une lutte contre l'analyse néolibérale qui lie l'espérance de vie à l'âge de la retraite, laissant entendre sans vergogne que le but de la vie est de travailler jusqu'à la mort.
C'est une lutte contre la perception autocratique et les pratiques oppressives qui violent les libertés démocratiques et syndicales les plus fondamentales, interdisant et opprimant toute lutte et résistance populaires.
La FSM appelle une fois de plus ses affiliés et amis, les syndicats militants et de classe du monde entier à exprimer leur soutien pratique et à organiser des activités devant les ambassades françaises ou ailleurs, en déclarant leur solidarité inconditionnelle avec les justes revendications des travailleurs.ses français.es.
Le Secrétariat
—————————————————————-
WFTU solidarity statement with the new strike in France
The World Federation of Trade Unions expresses its undivided solidarity with the workers and trade unions of France that continue and culminate the relentless struggle against the pension reforms with a new nationwide strike on 23 March 21, 2023.
We congratulate the WFTU affiliates in France and the militant class-oriented trade unions who are at the forefront of this huge and massive struggle for the withdrawal of the anti-people and anti-Labour pension reform of the French government. This is a crucial fight not only for the working class in France it is a fight for all workers and pensioners.
It is a universal fight against the anti-people policies of the bourgeois governments that promote increasing of the retirement age.
It is a fight against the interests of big capital and multinationals aiming at the abolition of social security and the privatization of the pensions system.
It is a fight against the neoliberal analysis that links life expectancy with the retirement age shamelessly alluding that the purpose of life is just to work until death.
It is a struggle against the autocratic perception and oppressing practices that violate even the most fundamental democratic and trade union freedoms banning and oppressing any popular struggle and resistance.
The WFTU once again calls upon its affiliates and friends, the militant and class-oriented trade union all over the world to express their practical support and organize activities before the French embassies or elsewhere declaring their unconditional solidarity with the just demands of French workers.
The Secretariat