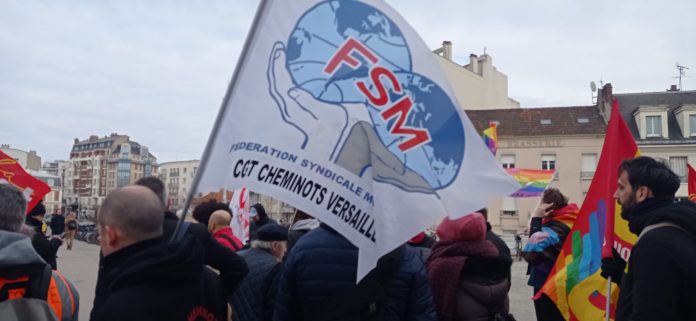 Le Bureau régional européen de la Fédération syndicale mondiale Invite toutes les organisations syndicales affiliées à organiser des manifestations devant les ambassades et consulats français le 23 mars in coïncider avec la nouvelle grève générale promue par toutes les organisations syndicales en France et à collecter des fonds pour les envoyer aux structures de la CGT affiliées à la FSM afin de soutenir les travailleurs en grève "reconductible" depuis des semaines.
Il est de notre devoir, en tant que représentants des organisations de classe européennes, d'être aux côtés des travailleurs et du peuple français qui mènent une bataille pour tous. Une lutte aussi dure, importante et large n'a pas été vue en Europe depuis de nombreuses années, le relèvement de l'âge de la retraite est une recommandation de l'Union européenne que tous les gouvernements appliquent, contribuant ainsi à la dégradation des conditions de vie des travailleurs.
Eurof condamne fermement la répression menée par le gouvernement Macron, une démonstration claire de la peur que le mouvement de classe fait peser sur le gouvernement de la bourgeoisie française, et appelle à la libération immédiate de toutes les gens arrêtées lors des manifestations et des grèves.
Dans de nombreux pays européens, des luttes et des grèves sont en cours pour défendre les droits des travailleurs, pour exiger des augmentations de salaire, et partout à la tête de ces luttes se trouvent les organisations syndicales membres du FSM. Seules la lutte et la construction d'un mouvement large et conflictuel peuvent remettre en cause les politiques que les différents gouvernements nationaux appliquent en obéissant aux diktats de l'Union européenne.
Solidarité avec le combat des travailleurs en France et dans toute l'Europe !
Nous sommes à vos côtés. Aujourd'hui plus que jamais, votre lutte est notre lutte
Mobilisons-nous dans tous les pays !
*******************************************************************************
With French workers in struggle
The European Regional Office of the World Trade Union Confederation Calls on all affiliated trade union organisations to organise demonstrations in front of French embassies and consulates on 23 March to coincide with the new general strike being promoted by all trade union organisations in France, and to collect funds to be sent to the CGT structures affiliated to the FSM to support the workers who have been on "reducible" strike for weeks.
It is our task as representatives of the European class organisations to stand by the workers and the French people who are fighting a struggle for everyone. Such a hard, important and broad struggle has not been seen in Europe for many years, the increase of the retirement age is a recommendation of the European Union, which is applied by all governments, which further contributes to the worsening of the living conditions of the workers.
Eurof strongly condemns the repression carried out by the Macron government, a clear demonstration of the fear that the class movement has of the French bourgeoisie government, and calls for the immediate release of all those arrested during the demonstrations and strikes.
In many European countries, there are ongoing struggles and strikes in defence of the workers' rights and for the increase of wages, and everywhere the trade union organisations affiliated to the FSM are at the forefront of the struggles. Only the struggle and the building of a broad and confrontational movement can challenge the policies of the different national governments, which follow the dictates of the European Union.

We are at your side. Today, more than ever, your struggle is our struggle
Solidarity with the struggle of the workers in France and all over Europe!
Let us mobilise in every country!